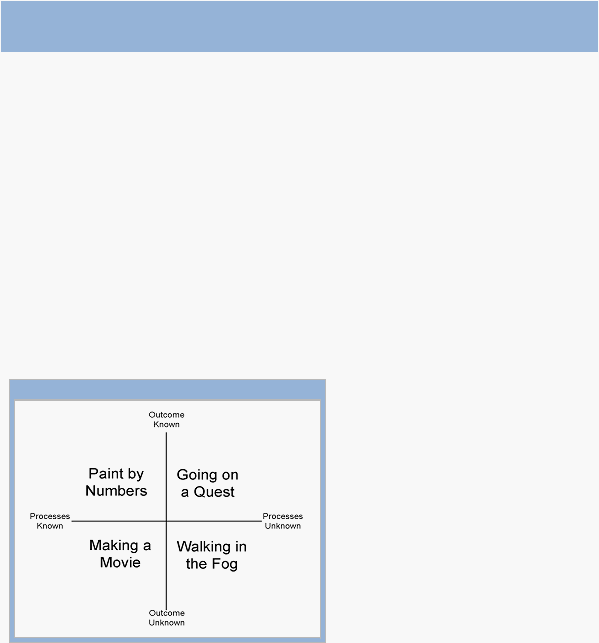 Figure 9: Project Uncertainty
processes but unknown outcome are called 'Making a Movie'.
5.3. Project Characteristics' Impact on the Reward
This section answers research question three: '

What could a project team reward model
In the previous section, it was shown that no need for a project team reward model
exists because the general Reward House can be used to for project team rewards, too.
as an additional internal reward factor had to be added to the model.
Accordingly, no attempts were made to create a special project team reward model to
answer the third research question. Instead, it was researched how the project
characteristics could influence the reward answers.
5.3.1. Impact of Uniqueness / Outcome and Process
Figure 9: Project Uncertainty
Projects are unique undertakings
(PMI 2004). The uniqueness of
projects differs and may be
distinguished by the level of outcome
and process clarity (see

Figure

9

). The
outcome clarity describes to which
outcome should be. The process clarity
describes to which extent
to achieve the desired outcome.
For rewarding project teams, the
project's uniqueness has wide
Due to the uniqueness, there exist no
exact benchmark, that results or
Please note: All rights of this webpage are reserved. No part of this webpage may be reproduced, stored in a retrieval system, or transmitted in any form or by any means electronic, mechanic, photocopying, recording or otherwise without the prior written permission by the author. This html version of the book Project Team Rewards: Rewarding and Motivating your Project Team is not suitable for referencing since page numbers and layout may differ from the original book. Layout flaws are due to converting difficulties from the original file format to html and are not present in the paper copy of the book.